Zeroid, the brand favored by K-Pop stars treats dry sensitive scalps while beautifying hair with its latest product launch, Zeroid Rootheal Scalp Moisturizer
Dr. Raymond Labs, K-Beauty's leading skincare company dedicated to developing and marketing innovative, affordable clinic-level skincare at home has launched Zeroid Rootheal Scalp Moisturizer , aimed at caring for dry, sensitive scalps while helping hair to grow strong, healthy and lustrous. Previously available only in hospitals and doctors' offices in Korea, Zeroid Rootheal Scalp Moistuizer is nore available worldwide through the company's dermartology.com website.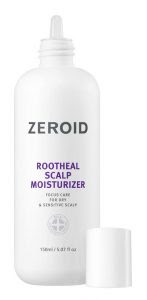 "We are very pleased to have expanded our Zeroid brand to include hair care. It's easy to forget that the scalp is part of the body's skin barrier and if the scalp is well cared for and healthy, then the hair growing from it can be healthier too," said Dr. Raymond Park, CEO of Dr. Raymond Labs for Zeroid.
Whether the scalp is dry and irritated from harsh weather, skin conditions or overdrying from chemical coloring or perm treatements, Zeroid Rootheal Scalp Moisturizer can help. Several patented formulas work together to strengthen the scalp's skin barrier and nurture hair follicles, encouraging the healthy symbiosis needed for healthy and beautiful hair. MLE® helps protect and strengthen skin barrier. MLE ® has a similar structure to the skin barrier and helps protect and strengthen that skin barrier.
Ceramide HS supports the restoration of the skin's barrier function.
Defensamide ® moisturizes and soothes the scalp. It also helps stimulate the production of anti-microbial peptides that act like the body's natural anti-biotic. And, it aids in improving and reinforcing the functions of the skin barrier and the self-defense system.
Restomide and Zinc Gluconate both act as anti-redness agents.
ADfence-P also calms sensitive skin and as an added plus, it helps slow down sebum production. ADfence-P and Zinc Gluconate calm and soothe scalp irritation.
Zeroid Rootheal Scalp Moisturizer comes in a 5.07 fl oz bottle and retails for 28.00 USD. However the website offers a reduced price of 22.40 USD. For more information and to see the complete line of Zeroid products visit https://www.dermartology.com/Zeroid-Rootheal-Scalp-Moisturizer-p/00802.htm