Real Barrier's most recent addition to its K-Beauty Cicarelief line provides a convenient, disposable way to soothe irritated skin both at home and on the go. Saturated with a patented blend of ingredients, these pads soothe while helping to repair a weakened skin barrier. Here's how.
Real Barrier, K-Beauty's leading skincare brand dedicated to developing and marketing innovative, affordable spa and clinic-level skincare at home, has added its clinically-proven cicarelief formula to the latest launch, Real Barrier Cicarelief Moisture Pads. Quick, easy to use and disposable, Real Barrier Cicarelief Moisure Pads provide soothing, calming, skin barrier care anywhere in measured portions. No mess.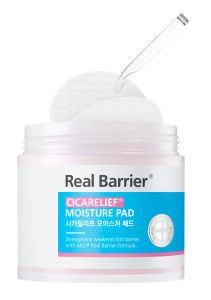 "We have been working on developing more ways that enable people to keep skin barrier relief with them easily, everywhere they go and the Cicarelief Moisture Pads is the most recent solution, with more in the pipeline. People often have to travel or be away from home for long periods during the day. We often forget that skin needs attention at regular intervals, especially skin prone to issues. We want to make it as easy and afforadable as possible for people to get care for their skin," explained Dr. Raymond Park, CEO and developer of Real Barrier.
The pads help relieve skin irritations and are perfect for skins that have rough, red spots and are prone to occasional break outs. These pads can also assist in helping to relieve the symptoms caused by skin exposure to irritating plants such as, but not limited to Poison Ivy and Poison Oak. The construction of the pad allows the maximum release and application of the Cica Cream Essence and are made of a natural fabric.
In addition to the Cica Cream essence, the blend of clinically-proven ingredients includes Calamine to help protect irritated skin, Panthanol to calm and Madecassoside to soothe. Sea Buckthorn delivers a complex of essential Omega fatty acids to nourish and form a protective layer that holds in hydration, as well as a powerful dose of vitamin C anti-oxidants to help brighten and
More information and a complete ingredients list can be found on the product's webpage.
#dermartology #realbarrier #cica #cicarelief #realbarriercicarelief #realbarriercicareliefmoisturepads #kbeauty #koreanbeauty #koreanskincare #skinbarrier