Niza Sulahry, has begun collaborating with Real Barrier after becoming a devoted client of the K-Beauty brand that specializes in caring for dry, sensitive and combination skin. Here are the products she uses to maintain her pageant-winning complexion and a discount code she is offering.
Real Barrier, K-Beauty's leading skincare brand dedicated to developing and marketing innovative, affordable spa and clinic-level skincare at home, has become a non-negotiable part of the skincare routine of Niza Sulahry. After randomly receiving a sample of Real Barrier products in a skin care order, she knew she had found what she was looking for.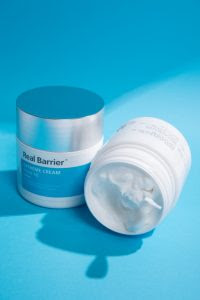 Since then, Sulahry, who is a fashion and beauty influencer, in addition to working fulltime in the finance industry and as a United Nations Volunteer, has used Real Barrier Intense Moisture Cream and Real Barrier Cleansing Foam for her daily routine and now sells it through her storefront on Octoly, the exclusive K-Beauty platform that matches influencers with brands and is offering her Instagram followers (along with anyone else who would like to receive a 20% discount on their order at checkout) the code OCTOLY from the Real Barrier's Dermartology.com website. "This set…is super moisturizing and lightweight," said Sulahry who uses Real Barrier Intense Moisture Cream at night and Real Barrier Foam Cleanser during the day.
"We are excited and honored not only to have Mrs. Sulahry's enthusiasm and support for Real Barrier products but also as a devoted client," said Dr. Raymond Park, CEO and developer of Real Barrier. "It is gratifying to know each time when someone benefits from the formulas in Real Barrier and to know that what we are doing is truly working and working well, fulfilling our mission to bring sensitive skin care and fill in the gaps for skin in need of types of care that does not offer enough options,"
Real Barrier rose to the number one-selling brand for sensitive skin in Korea shortly after its initial release due to its patented MLE formula that replaces damaged skin lipids with a bio-identical skin barrier replacement. The result is that chapped skin and skin suffering from other ailments such as severe dryness is improved and stays hydrated for 72 hours. Real Barrier products were designed to treat dry skin from the inside as opposed to creams that contain ingredients to provide temporary relief of symptoms. Real Barrier products contain the brand's signature MLE formula with the added benefits of hyaluronic acid and an additional patented dual ceramide for dry sensitive skin that needs extra care.
For a complete ingredients list and to purchase with the discount code, visit the Real Barrier page at dermartology.com.
#dermartology #realbarrier #kbeauty #koreanbeauty #koreanskincare #skinbarrier