A two-week clinical study revealed statistically significant improvement in subjects' hands after application of ATOPALM Moisturizing Hand Treatment, advanced anti-aging cream designed to combat common aging signs in hands
ATOPALM, K-Beauty's leading skincare brand dedicated to developing and marketing innovative, affordable spa and clinic-level skincare at home, with a special focus on dry and sensitive skin types recently published the results of a two-week clinical trial for ATOPALM Moisturizing Hand Treatment, an intensive moisturizing cream containing the company's patented MLE formula (Multi Lamellar Emulsion) skin barrier mimicking ceramide structure.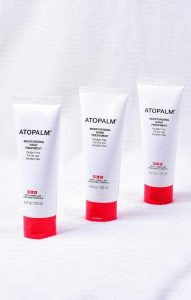 Twenty-five subjects between the ages of 40 and 61 were instructed to apply the treatment several times daily, especially after handwashing. After only one week,75% to 100% of the subjects noted their skin looked and felt softer and smoother, roughness was reduced, skin looked and felt tighter and appeared more youthful, and wrinkles were less obvious and the overall appearance of the skin showed definite improvement. At the completion of the two weeks, the positive responses of the subjects increased to 90% to 100% for all the attributes noted.
The increases are considered statistically significant at each evaluation time point. Subjective questionnaire responses indicated that at the end of the study their skin looking and feeling more hydrated, firmer, radiant and youthful. All the test panelists agreed that the test product is effective in reducing the appearance of fine lines and wrinkles as well as roughness and dryness of skin in the hand area.
ATOPALM Moisturizing Hand Treatment is an advanced anti-aging treatment cream designed to diminish visible signs of aging while protecting against environmental damage. Because the hands are regularly exposed to the sun, harsh weather, chemicals, and more, they are often the first area of the body to give way to visible signs of aging. Moisturizing Hand Treatment works to combat common aging signs, such as fine lines, wrinkles, and dullness.
In addition to the MLE skin barrier formula, ATOPALM Moisturizing Hand Treatment is formulated with a rich blend of moisturizers, antioxidants, and protective ingredients such as wheat protein, tea extract and chamomile to soothe, hydrate and nourish hands. The formulation is especially beneficial for dry and sensitive skin, though all aging skin types can benefit from this product. With proper use, the hands will become softer, smoother, brighter, and suppler, all of which contribute to a more youthful appearance.
For more information and a complete ingredients list, visit the product's webpage.
#atopalm #mle #dermartology #kbeauty #koreanbeauty #koreanskincare #skinbarrier #handtreatment #crackedhands #antiaging #handcare #handcream