Zeroid's commitment to making dermocosmeceutical skin care affordable and accessible has made Zeroid Pimprove, the line that has distinguished itself as a go to skin care line by K-pop stars into a worldwide bestseller. Zeroid is celebrating by making its deep discount bundle a permanent fixture for clients. Here is more about the skin care line that cleanses, tones and balances acne-prone and combination skin.
When Zeroid, K-Beauty's leading brand dedicated to developing and marketing innovative, affordable clinic-level skincare with a focus on dry, sensitive and combination skin types, first began marketing outside of Korea, the company offered Zeroid Pimprove line in a deeply-discounted bundle. The accessibility of Zeroid Pimprove, combined with scores of rave reviews from influencers with dry, oily and combination skin, continued Zeroid's upward rise from the go-to skin care of K-pop stars to the routines of people everywhere who love Zeroid Pimprove for its clinically-proven gentle cleansing and balancing of blemish-prone and combination skin, a skin type that can be tricky to care for when the need to remove excess oil can over dry skin.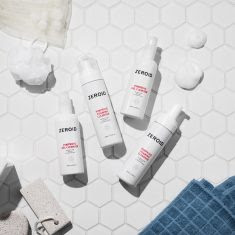 "We understand that oily and combination skin types need an entire routine from cleansing to moisturizing in order to receive the kind of care they need," said Dr. Raymond Park, CEO of Zeroid. "That's why we originally bundled the entire line at a discount, in order to make the entire routine as accessible and affordable as possible. And now, we will continue to offer the deeply discounted bundle to everyone, returning clients and new clients alike. No one should have to suffer with skin challenges and always have to pay extremely high prices for the types of products needed to care for troubled skin."
The Zeroid Pimprove bundle consists of two different cleansers, Foaming and Gel. Basically either one is a good choice depending upon personal preference. Both work to improve the condition of troubled skin while helping to maintain skin health. The GEL CLEANSER is gentle, pH balanced and helps to relieve and minimize skin irritations by using ingredients of natural origins. It contains Panthenol to help maintain moisture and Zinc PCA to slow down sebum (oil) production. The FOAMING CLEANSER, a fluffy, lightweight, yet highly concentrated foam helps remove excess sebum and surface skin impurities. It contains natural origin surfactants sourced from plants and Zinc PCA and Panthenol.
After rinsing, each can be followed with Pimprove Toner. It is acid balanced, helps maintain the pH level and contains Hyaluronic Acid which is known to bind necessary moisture to the skin. The other specialty ingredients will help the skin experience mild exfoliation, while ZincPCA balances the ratio between oil and water and assists in slowing sebum production. And, Ceramide-9S aids in protecting the function of the skin barrier.
Zeroid Pimprove Moisturizer is a lightweight, non-sticky moisturizer that is quickly absorbed and perfect for a skin that is oily or irritated. It contains a lightweight version of MLE; Restomide and ADfence-P to soothe and calm while slowing down sebum production. And, Hyaluronic Acid that helps bind moisture to the skin. This multi-purpose moisturizer also assists in keeping skin redness under control.
Bought individually, the line costs 118.00 USD, but bundled together are available for 70.80, a savings of nearly 50.00 USD. More details can be found on the product webpage.
#dermartology #zeroid #pimprove #zeroidpimprove #kbeauty #koreanbeauty #koreanskincare #skinbarrier