One of Thailand's highest profile beauty influencers introduced CureCode Neuromide Ampoule to her followers after showing them evidence-based results for her skin. Now, she can barely keep up with the demand.
CureCode, K-Beauty's leading brand dedicated to developing and marketing innovative, affordable clinic-level skincare with a focus on dry, sensitive and combination skin types recently collaborated with a high-profile influencer in Thailand, where K-Beauty dermaceuticals is rapidly growing in demand. In the forefront of the rising curve is CureCode Neuromide Ampoule, the spa and clinic-level ampoule formulated to deliver ultra-levels of skin-plumping and rejuvenating hydration while also brightening and promoting rapid cellular renewal for smoother, lustrous skin.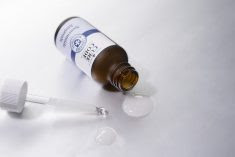 "Anyone with dry or combination skin absolutely must try this ampoule. It helps restore the skin barrier which is the skin's armor to the outside elements," said cosmetic scientist and beauty influencer/blogger in Thailand under the handle MamaSugar. Her web-based storefront serves as an associate to enable clients in Thailand to purchase the beauty products she reviews. "CureCode Neuromide Ampoule is what I call a microbiome game changer. The developer of the formula, Dr. Raymond Labs, has advanced their already-advanced formula to MES (think taking a strong hurricane-proof house and also making it earthquake and bulletproof) which really goes to work for sensitive skin, challenged skin, peeling skin. Anyone who has these types of skin needs this product in their life."
Mama Sugar thoroughly researches and reports on the science-based effects of the ingredients to her near 700 subscribers. Her exhaustive reporting on ingredients and personal reviews have earned her a strong following of K-beauty enthusiasts who trust her evaluations and who, by their subsequent reviews, are finding that once again, her reporting is accurate. "I have been following and studying the science of the formulas coming out of Dr. Raymond Labs, and I am thoroughly impressed with the ingredients and technology in this ampoule! They are the key to rebuilding the skin's armor."
CureCode Neuromide Ampoule contains Neuromide, a bio-identical metabolite of the skin-gut microbiome that works with the skin's own built-in healing process to help rapid skin barrier recovery from dryness and sensitivity, is concentrated in the ampoule at a dose of 4000ppm. In addition to Neuromide, the ampoule contains Tri-Biotics (Pre- / Pro- / Post-Biotics) help create a microbiome environment for healthy skin.
The autophagy-inducing power of Aquatide is supplemented by Resveratrol, the compound found in red grapes that also produces the process of cell renewal. Additional age-fighting ingredients include Panthenol, that when absorbed by the skin is converted into vitamin B5, which helps moisturize to relieve the tightness from dry skin, in addition to a complex of skin-soothing and nourishing St. John's Wort, Centella Asiatica, Allantoin and Adenosine, all known for centuries as containing properties to soothe and refresh skin's appearance.
More information and a complete ingredients list can be found on the product's webpage.
#dermartology #curecode #neuromide #neuromideampoule #curecodeneuromideampoule #kbeauty #koreanbeauty #koreanskincare #skinbarrier