K-Beauty enthusiasts on Instagram raved over ATOPALM Facial Foaming Cleanser in a recent global reviewing campaign. Influencers with dry, sensitive and combination skin were thrilled with the cleaner's gentle hydrating cleansing and clean light scent, giving it an overwhelming number of thumbs up. Here's what they had to say and why.
ATOPALM, K-Beauty's leading skincare brand dedicated to developing and marketing innovative, affordable spa and clinic-level skincare at home, with a special focus on dry and sensitive skin types, recently tested ATOPALM Facial Foaming Cleanser with Instagram influencers through 0.8L, a global reviewing platform that connects influencers with brands. The campaign has resulted in an overwhelming number of 5-star reviews and thumbs up from those who loved the gentle cleansing of oil, dirt and makeup by the cleanser, in addition to how easily the product rinsed away, leaving skin feeling healthy and well-hydrated, among other positive raves.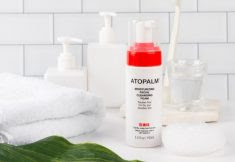 "Whenever I remove my makeup from my face, I like to use a good facial cleanser. And this is the Moisturizing Facial Cleansing Foam by @atopalmUSA This product is very soft, makes a soft foam that perfectly cleanses my skin, without leaving my face dry. I love it," wrote Karol Sullivan a blogger with a YouTube following of 240 thousand subscribers and 55.2 Instagram followers.
Maria's Skin Reviews, another influencer with nearly 3,000 Instagram followers wrote, "This cleanser is super foamy! It doesn't strip the skin and it hydrates whilst purifying your skin at the same time! My skin is oily but I didn't experience any adverse reactions while using this product. I like that it removes makeup as well, so you could use this beauty as part of your double cleansing routine!" And Aymibaby, an Instagram influencer with 3,000 followers wrote, "This is a very light weight cleanser, and a couple pumps gets the work done! This is a very hydrating face wash that works well on a variety of skin types. It brings a burst of hydration, and removes makeup and can be used as part of your double cleanse process. This cleanser has a light fragrance and gently lifts and removes dirt, makeup, and excess oil. This has a low pH formula and leaves the skin feeling supple and hydrated."
In addition to gentle hydration and cleansing, the key ingredient is the dermaceutical MLE formula that repairs and strengthens the skin barrier with a bio-identical ceramide structure that "tricks" the organic skin barrier into incorporating it seamlessly. The result is a stronger skin barrier that is clinically-proven to draw in and hold higher levels of hydration for longer periods. For complete information and an ingredients list, visit the product's webpage.
#dermartology #atopalm #atopalmmle #mle #kbeauty #koreanbeauty #koreanskincare #skinbarrier #facecleanser #cleanser #cleanskin