Bunny's Beauty Reviews blog on South Korea's most exclusive influencing platform averages over 5k views daily. Recently, Bunny reviewed CureCode Soothing Relief Gel, complete with photos and videos chronicling the improvement in her dry, sensitive skin.
The Beaustar influencers in South Korea are the gold standard for skin care reviews in South Korea. Recently, Bunny of Bunny's Beauty Factory, a Beaustar blogger, reviewed CureCode Soothing Relief Gel, an intensive skin barrier repair gel from Dr. Raymond Labs, one of K-beauty's game changing skin care development companies with a focus on dry and sensitive skin types.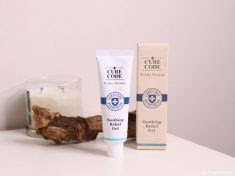 Bunny's review highlighted the challenge of using cosmetics under a mask much more often and was very happy with how CureCode Soothing Relief Gel provided a refreshing, smooth layer that prevented the oil and sweat from cosmetics and working out from irritating her skin, even during yoga class! "Even on the skin that was reddened by the rubbing caused by the mask, [the gel has] gave [my skin] comfortable rest :)"
Bunny attributes this positive effect of the gel on her skin as a result of the CureCode brand's dermaceutical blend of what she felt was "professional and medical." Even down to the packaging, she knew she had found something that was serious formulation for sensitive skin. Bunny goes on to explain why CureCode made such a strong impression on her, especially the unique patented Neuromide that she can't find in any other product and which doesn't just moisturize skin but increases ceramides in the skin, improving the skin's actual ceramide content.
Bunny also liked the texture of CureCode Soothing Relief Gel which she described as somewhere between and ointment and a gel, smooth like a gel but also "a deep sense of calm like an ointment… The skin is comfortable and quickly calms down. While correcting the tingling right away. It leaves only moisture and has a silky finish. There was no greasiness!"
In addition to Neuromide, CureCode Soothing Relief Gel contains prebiotics and postbiotics that Bunny explained "normalize the microbial ecosystem of the skin." In addition, the gel contains St. John's Wort, an herb used for centuries to treat damaged skin because of its soothing, calming properties. Bunny wrote, "As soon as I apply the cream, it becomes part of my skin The skin feels even stronger. If you apply it steadily, [even though] the cold wind blows in November-December, your skin will be reassured of protection!"
#dermartology #neuromide #curecode #curecodesoothingreliefgel #kbeauty #koreanbeauty #koreanskincare #skinbarrier