Keep your skin glowing and hydrated and stock up with big savings. Dr. Raymond Labs' pre-Thanksgiving sale runs all week and offers 20% off as well as additional bonus savings between 10.00 and 20.00 USD an order through Black Friday. Find the range of K-Beauty dermaceutical brands for every skin type and area of the body including dry, sensitive, oily and combination skin. Here are the details.
Stock up on budget-friendly skin K-Beauty barrier care to pamper and strengthen dry, sensitive skin through the winter with a massive Pre-Holiday sale. Dr. Raymond Labs, K-Beauty's leading skincare brand dedicated to developing and marketing innovative, affordable spa and clinic-level skincare at home, with a special focus on dry and sensitive skin types, is offering a site-wide Pre-Holiday sale on all its brands this week and through Black Friday.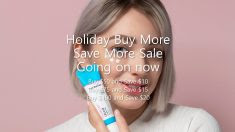 The Pre-Holiday Sale runs from all this week and through Black Friday at both the company's ATOPALM and Dermartology websites. All orders are 20% off plus an additional savings depending on the amount of the order. Customers will receive an additional $10 off order of $50, $15 off order of $75 and $20 off order of $100 and higher. For added convenience, discounts will appear automatically at checkout so there is no need to enter a code.
All brands from Dr. Raymond Labs contain the patented MLE skin barrier formula, the world's first cutting edge Korean skin barrier science with biotech advances focused on caring for very dry and sensitive skin types. MLE (Multi-Lamellar Emulsion) formula is the only formula in the world that contains the exact bio-identical skin barrier structure of a healthy skin so that it "tricks" the compromised skin barrier into readily accepting and incorporating the healthy skin structure into itself. The MLE formula fills in the vulnerable areas of the skin barrier, reinforcing them to enable skin to draw in hydration and hold it for longer periods.
The range of brands available cover the range of needs from caring for baby's skin, through the entire family and all skin types, including oily, combination and acne-prone. Visit dermartology.com for complete details.
#dermartology #atopalm #realbarrier #zeroid #telse #lastella #dermartlogy #kbeauty #koreanbeauty #koreanskincare #skinbarrier #holidaysales