Love It is a beauty influencer on South Korea's most exclusive influencing platform. Recently, Love It reviewed CureCode Soothing Relief Gel, complete with photos and videos chronicling the improvement in her dry, sensitive skin. Here's what she loved about it and why.
The Beaustar influencers in South Korea are the gold standard for skin care reviews in South Korea. Recently, Love It, a Beaustar blogger whose blog averages between 12 and 13 thousand visits per day, reviewed CureCode Soothing Relief Gel, an intensive skin barrier repair gel from Dr. Raymond Labs, one of K-beauty's game changing dermacosmetic skin care development companies with a focus on dry and sensitive skin types.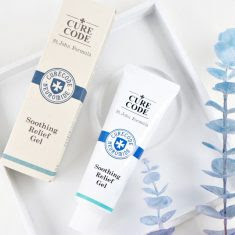 Love It explained that her skin dries out each year when the weather gets cold, especially because indoor heating also dries out her skin. So for her, quick, intense rehydration of her skin barrier is a must. This is where CureCode Soothing Relief Gel was perfect. "I liked it because of its moist and smooth application and the amount of immediate absorption," she wrote in her review.
Another very important point was both the texture of the gel, light and non-greasy, since she has to reapply it several times a day to fend off the irritating dryness that the harsh winter season can cause to her skin. "As it is a soothing gel, it gives freshness rather than a sticky or rich finish," she wrote, "so I think it would be good to apply it frequently in the morning and evening when you feel dry. I like the feeling that the inside [of my skin barrier] is moisturized and the texture of my skin feels firm and plump to the touch. I've been suffering from dryness and tension these days, but I think it's alleviated to some extent, so I'm going to use [CureCode Soothing Relief Gel] every day!"
In addition to the patented Neuromide that helps a long-chain ceramide fusion into the skin barrier to strengthen and repair it from the inside, CureCode Soothing Relief Gel contains prebiotics and postbiotics to foster a healthy skin microbiome condition, and St. John's Wort, an herb used for centuries to treat damaged skin because of its soothing, calming properties. "CureCode Soothing Relief Gel contains all the important core ingredients!" Love It wrote. "If soothing + moisture are combined, wouldn't it be a shortcut to strengthen the skin barrier? I think it is important to make the foundation work firm because it is necessary to develop fundamental strength to maintain the balance of the skin sensitive in the face of various environments and stressors without being disturbed."
For more information and a complete ingredients list, visit the product's webpage.
#dermartology #curecode #kbeauty #koreanskincare #koreanbeauty #skinbarrier