Angpu is one of South Korea's top K-beauty influencers with nearly 13,000 followers on Instagram and several thousand on ViewStar in Korea. Recently Angpu wrote and extensive review of CureCode Soothing Relief, praising this revolutionary formula for its calming and smoothing properties. Here's what she had to say and why.
CureCode, K-Beauty's leading skincare brand dedicated to developing and marketing innovative, affordable spa and clinic-level skincare at home, with a special focus on dry and sensitive skin types, recently teamed up with Korean ViewStar and Instagram celebrity, Angpu, who wrote an extensive review of CureCode Soothing Relief Gel. Angpu highlighted the postbiotics and probiotics in CureCode Soothing Relief Gel as well as the world-unique patented NEUROMIDE MES formula.
Angpu is one of an elite group of beauty influencers in South Korea who are featured in the exclusive ViewStar blog platform as well as a high profile Instagram. Her review highlights the unique blend of probiotics and postbiotics in the CureCode line. "There is an ingredient that I have been missing since last year. Lactobacillus! It's good to eat, but it contains lactic acid bacteria so if you use basic products, your skin condition improves dramatically. I really like it. It also contains postbiotics, soothing and skin barrier care at the same time," she explained to her thousands of followers. "Applying plenty of the gel to irritated skin before going to sleep really helps my skin the next day. CureCode Soothing Relief Gel! It's the first product you look for when you need to calm down."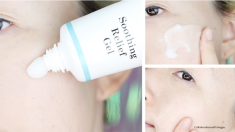 Angpu also placed strong emphasis on the improvement she saw after applying CureCode Soothing Relief Gel daily as well as how gentle the gel is for sensitive skin. "The more steadily you apply, the more noticeable your skin condition. I see things getting better. "Above all, CureCode Soothing Relief Gel It's really good for sensitive skin! It contains no harmful ingredients. Because it is made with mild ingredients, you can use it with confidence. Natural ingredients that help calm the skin. It's included together, so it's easy to avoid irritation."
In addition to probiotics and prebiotics, CureCode contains patented Neuromide, a bio-identical skin lipid metabolite of the gut microbiome that helps skin barrier, the body's own skin barrier recovery system. St. John's Wort, a centuries' old herb for skin irritation and calming helps calm and soothe sensitive skin and skin that may be irritated from harsh weather or environmental irritants. The cooling, non-greasy gel absorbs quickly into the skin, delivering its skin nourishing and hydrating properties.
#dermartology #curecode #curecodesoothingreliefgel #neuromide #kbeauty #koreanbeauty #koreanskincare #skinbarrier