Derma:B Daily Moisture Body Oil forms a gentle, soothing and hydrating lather in the shower or bath to give skin head to toe hydration that is easily absorbed, non-greasy and leaves skin smooth and moisturized all day.
For the past 12 years, Derma:B has been the most trusted brand in the most-trusted pharmacy chain in South Korea and its popularity, earned through years of delivering on the promise of gentle but powerful hydration and cleansing for all skin types, has made Derma:B available online everywhere. The latest addition to the Derma:B range of head-to-toe body care is Daily Moisture Body Oil.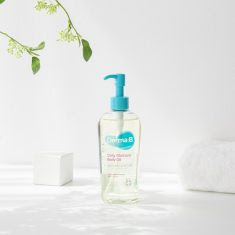 Daily Moisture Body Oil, as the name implies, is a rich, very emollient, lightly fragranced, moisturizing body oil which is formulated using natural oils. This enriched oil contains MLE-Multi Lamellar Emulsion that helps strengthen the skin barrier. Argan Oil, Sweet Almond Oil, Vitus Vinifera (grape seed) Oil, all help to nourish and moisturize skin even in harsh weather conditions. It is also strengthened by Camellia Oleifera Seed Oil which contains Vitamin C to aid in softening skin and enabling it to be more flexible, supple and younger looking.
"Moisturzing during the shower or bath can help deliver deeper hydration to the skin barrier, since, when the skin has been wet, the skin softens, enabling the body oil to penetrate to a deeper level," explained Dr. Raymond Park, developer and CEO of Derma:B. "This is why we developed the Daily Moisture Body Oil, to support and extend daily hydration of the skin barrier, helping it get through all seasons and all challenges and come out healthier."
Derma:B Daily Moisture Body Oil is designed to make a luxurious foam when mixed with water during a shower or while taking a bath. "Pump a generous amount into the palm and rub palms together to make a luxurious foam. Gently massage all over the body and rinse thoroughly with warm water. Pat dry. For optimum results, follow with one of the Derma:B Moisturizers or the Derma:B Daily Moisture Body Oil," added Dr. Park.
For more information, a complete ingredients list and links to other Derma:B products, visit the product's webpage.
#dermartology #dermab #kbeauty #koreanbeauty #koreanskincare #skinbarrier #sensitiveskin #dryskin #bodyskincare #bodycare