Hwaghwoo shares her experience of intensive sensitive skin relief and relief from irritation sue to mask wearing with her 100k plus followers, touting this K-Beauty dermo-cosmetic for its skin barrier restoring power.
The Beaustar influencers in South Korea are the gold standard for skin care reviews in South Korea. Recently, Hwanghwoo, a Beaustar blogger and Instagram star, reviewed CURECODE Double Barrier Cream, touting it for the beneficial results on her dry and sensitive skin. CURECODE Double Barrier Cream is K-Beauty's first ever "smart" moisturizer with the patented super ceramide formula NEUROMIDE and triple-biotics, formulated to stimulate the healing properties within the skin's own biome for faster calming and skin barrier restoration.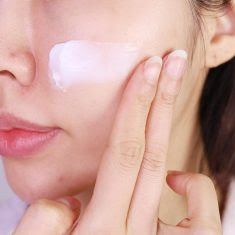 "I already have dry, sensitive skin to begin with, but then, having to wear a mask, while protective, also irritated my skin even more. I needed the powerful relief of a dermacosmetic, which is why I jumped at the chance to try CURECODE Double Barrier Cream," explained Hwanghwoo at the beginning of her review. "I felt very confident in the safety for this product on my skin because of the clinical test results as well as its high EWG Green grade rating."
Hwanghwoo praised the cream for its quick absorption into her skin, not leaving any greasy feeling. It feels so light she thinks she may have applied less than she thought, she writes. Another plus for her was how long the hydration lasts. "It keeps moiturizing for a long time," she wrote. "My skin is much healthier since I've been using it, which is a huge positive since my skin has become so sensitive, there is hardly anything I can use on it these days. I highly recommend it!"
CURECODE Double Barrier Cream contains an arsenal of intensive skin care ingredients, including two patented ceramides. Neuromide is formulated to act as a metabolite of the portion of the gut microbiome that directly works on calming skin irritation, launching the body's own built in healing process. Ceramide NP also boosts the ceramide levels in the skin barrier, actually stimulating the skin into believing its healthy and building itself up the way a strong skin barrier does. St. John's Wort and a blend of skin nourishing oils like hemp and sunflower boost the skin's nutrient levels while helping to calm and hydrate.
More information and a complete ingredient list can be found on the product page of the company's website.
#dermartology #curecode #doublebarriercream #curecodedoublebarrier #kbeauty #koreanbeauty #koreanskincare #skinbarrier