Lilo of the LiloStudio beauty and fashion blog shares her experience of intensive sensitive skin relief and relief from irritation from hives and sensitivity with her 34k plus followers, touting this K-Beauty dermacosmetic for its skin barrier restoring power.
The Beaustar influencers in South Korea are the gold standard for skin care reviews in South Korea. Recently, Lilo a Beaustar blogger and Instagram star, reviewed CURECODE Double Barrier Cream, touting it for the beneficial results on her dry and sensitive skin which is prone to breaking out in hives. CURECODE Double Barrier Cream is K-Beauty's first ever "smart" moisturizer with the patented super ceramide formula Neuromide and triple-biotics, formulated to stimulate the calming properties within the skin's own biome for faster calming and skin barrier restoration.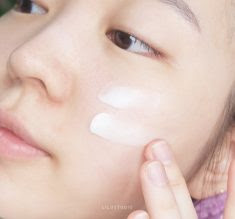 "The hives came up red. The skin feels comfortable as soon as the cream is applied! Above all, the itchiness caused by dryness disappears. It was best not to touch it," Lilo wrote after a lengthy period of applying CURECODE Double Barrier Cream reagularly. "By strengthening the barrier with skin barrier cream, while increasing the strength of the skin itself, by keeping moisture, it makes your skin healthy and moist. When the barrier becomes solid and not easily stressed by external stimuli, t makes your skin healthy and strong
So ~ Those who want to have strong skin with me, manage with CURECODE Double Barrier Cream."
CURECODE Double Barrier Cream contains an arsenal of intensive skin care ingredients, including new generation ceramide booster. Neuromide is formulated to act as a metabolite of the portion of the gut microbiome that directly works on calming skin irritation, launching the body's own built in healing process. Ceramide NP also boosts the ceramide levels in the skin barrier, actually stimulating the skin into believing its healthy and building itself up the way a strong skin barrier does. St. John's Wort and a blend of skin nourishing oils like hemp and sunflower boost the skin's nutrient levels while helping to calm and hydrate.
More information and a complete ingredient list can be found on the product page of the company's website.
#dermartology #curecode #neuromide #curecodedoublebarriercream #doublebarriercream #kbeauty #koreanbeauty #koreanskincare #skinbarrier