Dry, flaky skin can itch terribly but Derma:B Cera MD Cream from one of Korea's most popularly-trusted brands now available online, is formulated to help relieve itching while leaving skin continuously hydrated and protected.
For the past 12 years, Derma:B has been the most trusted brand in the most-trusted Beuaty and Health chain in South Korea and its popularity, earned through years of delivering on the promise of gentle but powerful hydration and cleansing for all skin types, including sensitive skin, has made Derma:B available online everywhere. The latest addition to the Derma:B range of head-to-toe body care is Derma:B Cera MD Repair Cream.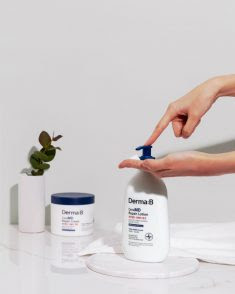 Derma:B Cera MD Repair Cream is a rich, luxurious, fragrance free cream, formulated to help relieve the itching caused by very dry and flaky skin. Without greasy residue, the cream leaves a light coating on the surface of the skin for continuous protection and moisturization.
Neopharm's patented Adfence-P ™ help soothe skin itch by creating a moisture barrier that rests on the surface of the skin to hold in moisture and protect the skin barrier from outside irritants. Cerapanthe-some, a dermaceutical blend of ceramides and panthenol, aid in strengthening the skin barrier by delivering deeper hydration that helping the active ingredients absorb more quickly.
"We have developed Cera MD Repair Cream to be a highly available, affordable and effective formula for dry, itchy skin relief. So many people everywhere deal with skin challenges like these for various reasons and it's important to have a steady supply of effective, caring skin relief," explained Dr. Raymond Park. "This cream is safe for the whole family."
Additional ingredients include Grape Seed Oil, Peach, Vanilla and Anise Fruit Extracts, Olive Fruit Oil and Rose Flower Water. All of these natural ingredients work together to assist in soothing and moisturizing dry skin.
This cream can be used on sensitive skin and is free of those ingredients known to cause skin irritation. So…no parabens, phenoxyethanol, mineral oil, triethanolamine, dyes, fragrances, propylene glycol, benzyl alcohol, benzoic acid, triclosan.
More information and a complete ingredients list can be found on the product's webpage.
#dermartology #dermaB #kbeauty #koreanbeauty #koreanskincare #bodycare #CeraMD #dermaBceraMD