Hee of Hee Blog beauty and fashion blog shares her experience of intensive sensitive skin relief and relief from roughness due to cold winter weather and mask wearing with her 10k plus followers, touting this K-Beauty dermacosmetic for its thickly powerful formula without greasiness.
The Beaustar influencers in South Korea are the gold standard for skin care reviews in South Korea. Recently, a Beaustar blogger and Instagram star, Hee reviewed CURECODE Intensive Care Ointment, praising it for the way it cared for breakouts of rough, dry skin caused by harsh winter weather combined with mask wearing.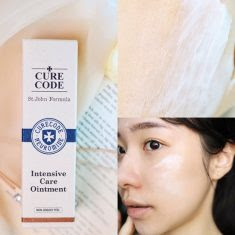 Hee, who counts over ten thousand Instagram followers, stressed the ointment's thick, effective formula that wasn't greasy. She found it was perfect for treating those spots on her face and being able immediately to apply her makeup over it. "It's a heavy cream but still light, like a whipped cream. If I use a cream that's too heavy, I break out, but using this ointment, even every day, I did not have one pimple! It really works well applied in layers. It is a product I really recommend to those who suffer from skin problems," Hee wrote in her review.
Hee's review contains several photos demonstrating how light yet moisturizing the ointment is and has made it part of her go-to cold weather skin care. "Meet the highly concentrated moisturizing cream that you can trust and use every winter!
I have been searching for a good balm or ointment for a long time to help me with my dry, rough skin each winter. I wish I had found CURECODE Intensive Care Ointment sooner. My skin would have been a lot more comfortable."
CURECODE Intensive Care Ointment contains an arsenal of intensive skin care ingredients, including patented Neuromide is formulated to act as a metabolite of the portion of the gut microbiome that helps on calming skin irritation, launching the body's own built in healing process. Ceramide NP also boosts the ceramide levels in the skin barrier, actually stimulating the skin into believing its healthy and building itself up the way a strong skin barrier does. St. John's Wort and a blend of skin nourishing natural oils and sunflower boost the skin's nutrient levels while helping to calm and hydrate.
CURECODE Intensive Care Ointmen is perfect for treating small areas that needs extra intensive coverage and protection that creams and lotions don't provide. More information and a complete ingredient list can be found on the product page of the company's website.
#dermartology #curecode #neormide #curecodeintensivecareointment #kbeauty #koreanbeauty #Koreanskincare #skinbarrier