South Korea's most trusted everyday brand for sensitive skin care has come to the online market. Budget-friendly and formulated to care for sensitive, dry, and itchy skin, Derma:B Cera MD Lotion contains a balanced blend of patented formulas and natural ingredients. Here are the details.
For the past 12 years, Derma:B has been the most trusted brand in the most-trusted pharmacy chain in South Korea and its popularity, earned through years of delivering on the promise of gentle but powerful hydration and cleansing for all skin types, has made Derma:B available online everywhere. The latest addition to the Derma:B range of head-to-toe body care is Derma:B Cera MD Repair Lotion.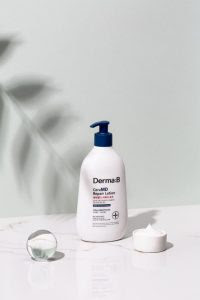 Derma:B Cera MD Repair Lotion is formulated for those who prefer a lotion as opposed to powder or a heavier cream or ointment. This fragrance free treatment is perfect to relieve annoying itching and flaking caused by very dry skin. It is quickly absorbed and helps protect the surface of the skin, leaving it smooth, feeling silky and not sticky.
"Our mission was to produce a complete formula that provides complete care for dry, sensitive skin that also can potentially be prone to itch. Whether a person has ongoing challenges or a temporary skin challenge, we wanted Derma:B Cera MD Lotion to be a budget-friendly, everyday item that is appropriate for the entire family, all ages," explained Dr. Raymond Park, who developed the Derma:B formulations and lines.
Formulated with Neopharm's patented Adfence-P ™ to help soothe itchy skin and also contains a combination of ceramide and panthenol, Cerapanthe-some, to aid in strengthening the skin barrier and also to help the active ingredients be absorbed more quickly. Infused with Olive Fruit Oil, Grape and Meadowfoam Seed Oils and Shea Butter. All of these natural ingredients work together to assist in soothing and moisturizing dry, itchy skin.
Gentle and non-irritating so it can be used on sensitive skin.
It is free of those ingredients known to cause skin irritation. So…no parabens, phenoxyethanol, mineral oil, triethanolamine, dyes, fragrances, propylene glycol, benzyl alcohol, benzoic acid, triclosan.
More information and a complete ingredients list and purchase links can be found on the product's webpage on the company's Dermartology.com site.
#dermartology #dermab #dermabmd #kbeauty #koreanbeauty #koreanskincare #skinmoisturizer #skinbarrier