T'Else Kombucha Cream is packed with all the health-giving power of probiotics, oligosaccharides and antioxidants of Kombucha, is budget-friendly, AND vegan. Here is everything you need to know about this K-Beauty powerhouse skin care product.
Dr. Raymond Labs, K-Beauty's leading skincare company dedicated to developing and marketing innovative, affordable spa and clinic-level skincare at home with a special focus on sensitive and dry skin types, announces its addition of the T'Else Kombucha Cream to the growing line of T'else Kombucha Essence skin care line.. Packed with all the health-giving power of probiotics, oligosaccharides and antioxidants of Kombucha, T'else Kombucha Cream delivers these benefits deep into the skin barrier.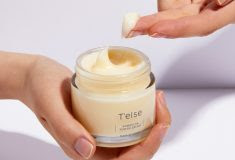 "Kombucha is one of the oldest tried and true formulas for the body's health, both internal and external, so we are excited and proud to have distilled the best of kombucha and the host of supporting natural ingredients, all proven over centuries to have great benefits for skin care," explained Dr. Raymond Park, CEO of Dr. Raymond Labs. "T'else Kombucha Cream contains 60% Kombucha Extract which helps to purify skin while also providing an anti-oxidant effect.
A translucent, pale yellow, fragrance free, light weight, airy cream that aids in removing dead cells from the surface of the skin leaving it looking smooth and fresh. With continued use, it can help to improve the texture and elasticity of the skin. It does so through the triple amount of hyaluronic acid, 5000 ppm of low molecular weight hyaluronic acid, to help enhance absorption leaving the skin moisturized and feeling softer and smoother.
Being vegan, it does not contain ingredients that could be harmful and cause irritation to the skin. And, clinical trials have proven that with regular use, the skin has improved softness, elasticity and moisture.
Additional ingredients include shea butter to soften skin, vitamin E for antioxidant power, and a blend of botanical oils to enhance detox, cell renewal, Allantoin to soothe and anti-microbial action to help maintain a healthy skin environment.
More information and a complete ingredients list can be found on the product's webpage.
#dermartology #telse #kombucha #kombuchaskincare #kbeauty #koreanbeauty #koreanskincare #skinbarrier