K-Beauty's CURECODE Neuromide Ampoule ticked every crucial box of dry skin care for this influencer Keep reading to find out why the ampoule earned such high praise.
The Beaustar influencers in South Korea are the gold standard for skin care reviews in South Korea. Recently, Ahrame, a Beaustar blogger and Instagram influencer with more than seven-thousand followers, reviewed CURECODE Neuromide Ampoule on her beauty and fashion blog. CURECODE is K-Beauty's first ever "smart" skin care with the patented super ceramide formula Neuromide and triple-biotics, formulated to stimulate the recovering properties within the skin's own biome for faster calming and skin barrier restoration.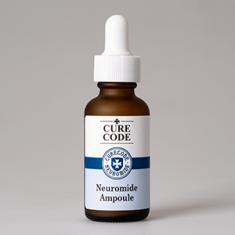 "My skin is very dry and gets worse when the seasons change from hot to cold and then back to hot again, so I have to be very careful with moisturizing. I need to use something that really hydrates deeply from the inside, even in summer," wrote Ahrame. "This time, during the change of seasons, I used CURECODE Neuromide Ampoule, and it hydrated my skin from deep inside. I found the ampoule doubled the moisturizing effect of regular moisturizers, except that the ampoule is never heavy or sticky like heavy moisturizers can be."
"For me, it's also important a moisturizer doesn't have a heavy scent and the ampoule has almost no scent. I also liked the convenient dropper bottle, allowing me to use just the right amount, with no waste. I really recommend it for everyone in the entire family."
The ampoule is also formulated with a complex of skin soothing ingredients such as Aquatide, a peptide component that promotes healthy, rapid cell renewal and removal of dead cells and Resveratrol, the compound found in red grapes that also produces the process of cell renewal, Panthenol, that when absorbed by the skin is converted into vitamin B5, which helps moisturize to relieve the tightness from dry skin, in addition to a complex of skin-soothing and nourishing St. John's Wort, Centella Asiatica, hemp seed oil, Allantoin and Adenosine, all known for centuries as containing properties to soothe and refresh skin's appearance.
More information and a complete ingredients list can be found on the product's Dermartology.com webpage.
#dermartology #curecode #curecodeampoule #curecodeneuromide #neuromideampoule #kbeauty #koreanbeauty #koreanskincare #skinbarrier