Read on to find out why nearly every single influencer who tried T'else Kombucha Essence on their dry, sensitive skin was so satisfied with these results…
Dr. Raymond Labs, K-Beauty's leading skincare company dedicated to developing and marketing innovative, affordable spa and clinic-level skincare at home with a special focus on sensitive and dry skin types, recently tested T'else Kombucha Essence in a review campaign with Instagram influencers through 0.8L, a global reviewing platform that connects influencers with brands. The campaign has resulted in an overwhelming number of 5-star reviews and thumbs up from those who really found their skin soothed, firmed and hydrated after using the product.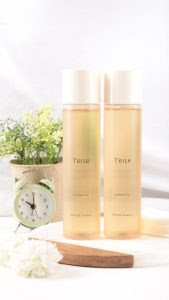 "I've really enjoyed using this essence. It has been such a soothing and hydrating step in my skincare routine. It leaves my skin feeling firmer and looking more luminous," wrote KellsBeautyReviews. Another influencer, LucyBaby wrote, "This Telse Kombucha Essence is so soft on the skin I have been using it as my toner and it is great love the smell to it the essence is not runny like others I really like this one love the quality and quantity of the product comes in a glass bottle which is fancy and amazing a little bit goes a long way I think this product is amazing I would definitely recommend it and repurchase my skin loves I'm sure your skin will love it too it is a must buy!"
"Great news, this product is infused with natural ingredients. Its major component is kombucha extract 74% and allantoin. Allantoin is great, since it provides skin protection and hydration," wrote Petaly, yet another influencer who loved the product. "No worries if you have sensitive, dry or itchy skin because it also provides soothness. When you open the bottle, a light scent of kombucha emerges. It is not watery but is not thick like some products with hyaluronic acid. A pleasant and light consistency that absorbs quickly and it doesn't irritate my skin. Once applied to the skin it feels luxurious and very gentle. My skin is soft, plump and hydrated after use and is more glowy with regular use."
T'else Kombucha Essence is infused with a combination of TEA, brewed from Camellia Sinensis Leaf Extract and Saccharomyces Ferment Filtrate to reduce puffiness and rejuvenate tired skin, with Allantoin to soothe along with many additional, carefully selected natural ingredients. And, housed in re-usable packaging paper cartons to help sustain the environment. Additional ingredients include triple hyaluronic acids for intensive hydration as well as fruit and berry extracts to maximize anti-oxidant benefits as well as lavender to calm and de-stress skin that has had to fight against toxins in the environment.
More information and complete ingredients lists for all the T'Else Kombucha Essence skin care line can be found at the company's Dermartoloy.com website.
#dermatology #telse #telseskincare #kbeauty #koreanbeauty #koreanskincare #skinbarrier #kombuchaskincare #kombucha #kombuchaessence #telseessence