Instagram influencers with very dry skin and skin prone to certain challenges raved over K-Beauty's Real Barrier Extreme Cream, reporting improved hydration and calming for their over dry and irritated skin. Read what they have to say.
Real Barrier, K-Beauty's leading skincare company dedicated to developing and marketing innovative, affordable spa and clinic-level skincare at home, recently tested their high-tech anti-aging moisturizer, Real Barrier Extreme Cream with Instagram influencers through 0.8L, a global reviewing platform that connects influencers with brands. The campaign has resulted in an overwhelming number of 5-star reviews and thumbs up from those who loved the hydrating and calming results of the intensive, thicker cream that makes up the Real Barrier line for super dry and sensitive skin.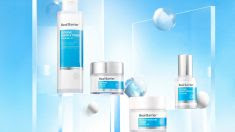 "It is a really thick nice quality moisturizer. It literally moisturized my face completely. I am so so so in love with this cream. it did not irritate my skin as well. It's perfect. I am def going to repurchase. I use it mostly at nights so it repairs my skin!" wrote Tishya of Tishya's Reviews, a positive review characteristic of the numerous five-star reviews.
Another influencer, MsJess, wrote, "this cream is a 10/10 for me…with this crazy weather my skin has been begging me for a magic product like this. If you need extra moisture or even just a moisturizer, I highly recommend trying this product out. A little bit goes a long way which makes this jar affordable for anyone."
"The cream has a rich luxurious texture but feels very lightweight on my skin and it sinks right into my skin without leaving a sticky residue," wrote Hendrika Van Dijk. "I love how it instantly soothes my dry skin and how it provides all day long hydration to my skin. It has a nice light natural scent to it. This cream is really amazing and I love how soft and smooth it makes my skin feel. It soothes my skin on application and prevents my skin from getting dry during the day. I recommend this cream when you suffer from dry and tight skin!"
Real Barrier Extreme Cream was developed for those who require serious skin care. With long lasting moisture benefits that are derived from a combination of specialty ingredients, it helps to repair a damaged skin barrier. It contains Idealift, a skin firmness-boosting compound that firms up sagging skin and penetrates deep inside skin, moisturizing and smoothening it without leaving a sticky or greasy feel.
The MLE® skin barrier formula recreates the Maltese cross structure found inside healthy skin. This patented ceramide complex is applied and the MLE® skin barrier formula, which recreates skin compounds and structure that is the most similar to real skin, strengthens weakened skin barrier and keeps skin moist from deep inside, creating a 72-hour moisturizing effect. Three-calming Complex soothes and protects skin with a complex blend of panthenol, madecassoside, and allantoin effectively soothes sensitive skin.
For more information, please visit the products web page.
#dermartology #kbeauty #realbarrier #extremecream #koreanskincare #koreanbeauty #skinbarrier