Real Barrier's new toner is the height of K-Beauty cleansing, hydrating and skin barrier care for sensitive, dry skin types. Here is everything you need to know about Real Barrier Extreme Essence Toner
K-Beauty has revolutionized what we have always believed to be true of toners. Alcohol-based toners strip away essential hydration, leaving skin dry and tight, causing extra work for moisturizers that can't compensate for the damage done to the skin barrier. Real Barrier, K-Beauty's leading skincare brand dedicated to developing and marketing innovative, affordable spa and clinic-level skincare at home, with a special focus on dry and sensitive skin types, has launched Real Barrier Extreme Essence Toner, designed to gently clean away bacteria and excess oils while bringing essential hydration to the skin barrier to keep it healthy.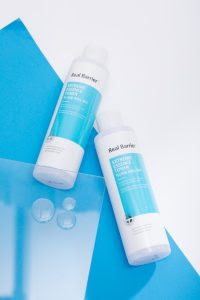 "The typical K-Beauty skincare routine always includes a toner after washing and exfoliating the skin but it's important not to strip away moisture and alcohol-based toners are harsh on the skin barrier and can have a damaging effect on the skin barrier in the long term," explained Dr. Raymond Park, CEO and developer of Real Barrier. "That's why we developed a toner that can remove dysbiome and excess oils that often trouble oily and combination skin without overdrying. Toner should leave the skin as well-hydrated and the skin barrier as conditioned as it takes away dirt and oil."
Real Barrier Extreme Essence Toner is unique combination of a lightweight, milky toner with the additional benefits of an essence derived from lavender, sunflower and citrus oils that nourish and calm dry, irritated skin, helping to restore balance. Hyaluronic acids and Panthenol provide intense moisture and antioxidant nutrition for dry skin while the MLE ® skin barrier formula aids in creating a protective layer on the surface of the skin. It also controls the amount of moisture in the skin leaving it looking dewy and healthy.
A 6.76 fl oz bottle retails for 25.00 USD but is available for a reduced price of 20.00 USD from the company's dermartology.com website. For more information and a complete ingredients list, visit the product's webpage.
#dermartology #realbarrier #toner #skincare #skinbarrier #kbeauty #koreanbeauty #koreanskincare