Zeroid Pimprove Red Control Cream, the K-Beauty brand of clinic-level skin care helps to minimize the redness of irritation in not-so-perfect sensitive skin and keep it pH balanced all year, including the harshest months of winter.
For sufferers of dry, sensitive skin and irritation-prone skin, the onset of winter can strike a note of dread with its harsh temperatures outdoors and drying heat indoors. Zeroid helps keep winter just another season with clinic-level, affordable formulations to pH balance and strengthen a weakened skin barrier. The Zeroid brand has earned its way into the daily skin care of such celebrities as V of the K-pop band BTS. Zeroid Pimprove Red Control Cream is the most recent addition to its line for post-acne care and skin prone to irritations.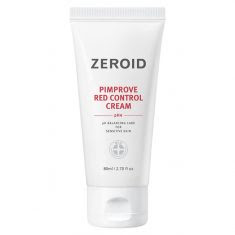 Zeroid Pimprove Red Control Cream is part of the perfect daily winter skin care regimen for not-so-perfect skin. A specialty treatment for dry or irritated skin, it has been proven not to clog pores and with a pH4, helps minimize irritation.
"Even though this product is good for every day to help calm redness and irritation that many people can experience regularly when they have sensitive skin, we are glad to say that it gives skin that needed ally when the external conditions like winter time present steeper challenges to keeping skin at its best," explained Dr. Raymond Park, CEO of and developer of Zeroid. "Zeroide Pimprove Red Control Cream is intended also for acne-prone and combination because those skin types, too, can be sensitive and need extra care in winter, which is what our formula is dedicated to helping."
Zeroid Pimprove Red Control Cream also contains Restomide ™ which is known to help soothe irritated skin. And it includes MLE™ which provides a structure similar to skin lipids and also enhances and strengthens the function of a damaged skin barrier.
This product does not contain those ingredients that are known to cause irritation, such as fragrances, pigments, ethanol, parabens, phenoxyethanol, mineral oil, PG, triethanolamine, BHT and benzyl alcohol.
However, it does contain Vitamin E which is known to help protect the skin against stresses of the environment as well as ingredients such as Jojoba, Hyaluronic Acid and Beeswax, long ttrusted to increase moisture and to calm and nourish the skin.
More information and a complete ingredients list can be found on the product's Dermartology.com webpage.
#dermartology #zeroid #pimprove #zeroidpimprove #redcontrolcream #kbeauty #koreanbeauty #koreanskincare #skinbarrier